In the past. Melamine paper and wood veneer are usually talked about separately. Some people use melamine paper as the surface decoration paper because of its rich colors and some use wood veneers because of their competitive price. But for some unsmooth surfaces like plywood, if only use wood veneer, the decoration may look monotonous; If use melamine paper and wood veneer separately, the shelf life of melamine paper will be a big burden to the factory store. To solve this problem, melamine wood veneers emerge as the times require.
Melamine wood veneer usually refers to the melamine impregnated paper faced wood veneer. It is produced by pressing the melamine paper onto the engineered wood veneer via high pressure and high temperature. The thickness is generally from 0.12mm to 0.6mm. It is mainly used for the surface of the plywood, blackboard, and door skin.
What is the advantage of melamine wood veneer?
1. Variety of Color and Designs for Choice
The designs of Wood veneer are decided by wood species, such as birch, maple, oak, cherry, etc. The pattern is usually unique and limited, while with melamine paper surface, there are hundreds and thousands of prints and color choices. No matter wood grain, stone, marble, fabric, flower, or any other decor paper patterns, all are available.
2. Consistent Coloring and Grain Pattern
The wood veneer is sanded from real hardwood. Hardwood is usually growing at random and without rule, so it is very difficult to keep a consistent grain pattern. Even painted the surface of the engineered wood veneer, it is difficult to make sure the color consistent. However, with melamine paper bonded in the surface, the effect will be on the opposite side. Decorative melamine veneer is a man-made material. The grains and patterns are designed with consistent features, it is generally fixed unless the customers want to adjust the design. About the decor colors, it is mixed by the certain ratio printing inks. Even for different batches of goods, the color can be the same.
3. Longer Shelf Life
As we all know, melamine resin has a shelf life. Melamine impregnated decorative paper can be stored only for 2-3 months after the production. However, if we press the impregnated paper on the wood recon veneer, it can be kept for at least more than 1 year, and the lamination factories don't need to worry that the melamine paper may stick together or become harden and useless.
4. Less Production Process
Natural wood veneer is the original thin layer of wood strips. It is not smooth and has many flaws on the skin. It must be sanded and painted and then can be used for the furniture surface. Laminating the decor paper on the wood veneer surface will well cover the defective part of the wood veneer.
5. Durable, Waterproof, Easy to Clean
Melamine is a thermoset material. After solidifying, it is water-resistant, scratch-resistant, stain-resistant. The melamine layer highly increases the durability of melamine furniture. With the protective layer of melamine paper, the wood veneer is very easy to clean.
What is the application of melamine wood veneer?
1. Plywood and Block board Furniture
The plywood surface is mot smooth. It must use a wood veneer to cover the unsmooth skin and then press melamine paper. Therefore, the most popular usage of melamine veneer sheets is to paste on the surface of plywood to make furniture. It will shorten the procedure to produce melamine plywood.
2. Plywood Chair or Other Special Shape Plywood Core
Except for flat blockboard and plywood, melamine wood veneer also can be used for the special shape of panel like bent plywood chair, table. etc.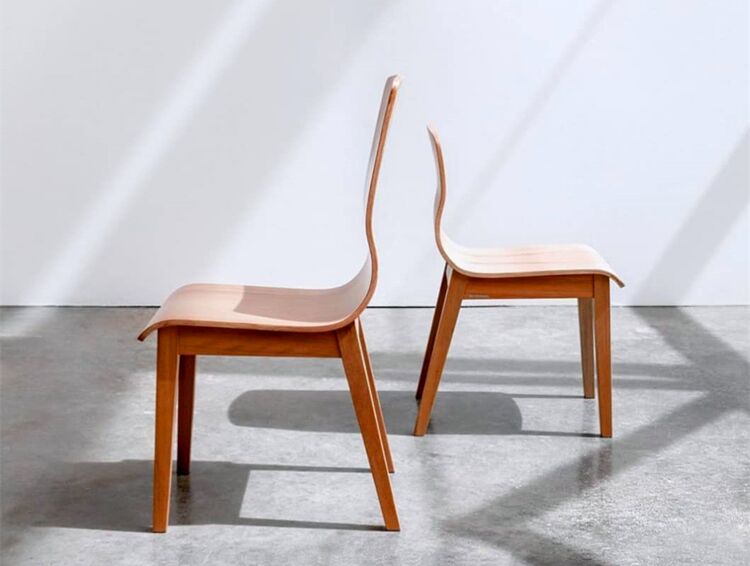 3. Wooden Door Skin
For some wooden doors, the middle part is made by hardwood or medium density board and the surface is pressed with 0.12-0.6mm melamine veneer. After high-temperature lamination, a door mold is produced.
Where to buy Melamine Wood Veneer?
VIIKAN is a professional melamine wood veneer supplier and manufacturer in China. We are specialized in the wood industry for more than 20 years. We are loading containers of decorative veneers every week. Because melamine wood veneer is a new product, many customers don't know this product now. If you are a melamine plywood manufacturer and your factory has a hot press machine, please don't hesitate to contact us. We will introduce more information to you, and it may help you to increase production capacity and saving the raw material cost.